The Creative Genius of the Black Community can be Strengthened or Weakened by our Collective Response to the Walls in our lives!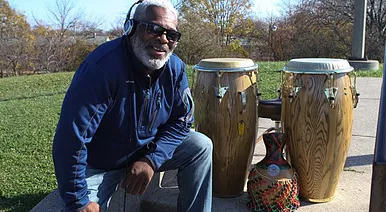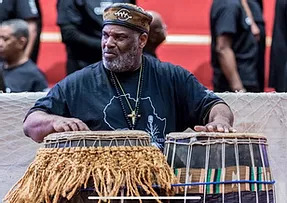 African Drums Coordinator
Tony"TOCA"Carpenter – Percussionist
Tony carpenter is a urban percussionist who began his percussive journey in the early 70's when he began exploring traditional rhythms of west Africa, such as the Rumba and 6/8 patterns. Ultimately adding Sambas and many other rhythms to his vocabulary. Tony also added an assortment of percussion instruments to his Arsenal.

ln the 70's, he performed with African Dance Troops such as Julian Swains inner – City Dancers and Najwa Dance Troop. This is where the development of the ethnic rhythm began.
Tony has also played with many Masters Congueros including Mongo Santamaria, Armando Peraza, Alex Acuna, and Giovanni Hidalgo.

Tony is comfortable playing R&B, Gospel and Jazz. The melodious tones of his unit "TOCA LIVE" is a sound you won't forget. He has combined rhythms with his favorite Jazz classics which he calls cultural Jazz.

He has performed with many great artists of all genres, such as Leroy Hudson, Tyron Davis, The Emotions, Jerry The lce Man Butler, Ramsey Lewis, The Soul Children of Chicago, Kim Stratton, Malachi Thompson, and the list goes on.
Virtual Talking Drums of Africa as a Pathway to Peace Workshop
Synopsis
Virtual Talking Drums of Africa
Have you ever heard the beat of a bongo and had it take you to a place of connection and peace. Our African Ancestors utilized the rhythmic beat of the drum for many purposes. They were utilized to call the community together. They were utilized to speak unspoken words which could travel from village to village. But let us not forget that during our period of enslavement the African drum was utilized to relay the need to gather, in order to plan our collective escape from the doldrums of slavery. Join us for these workshops, as we learn not just the history of the African drum but how it can be utilized here in the 21 st century, as a powerful weapon that promotes unity and peace within the African American community.
THE SPACE WHERE THE SPIRIT OF OUR ANCESTORS AND THE AFRICAN AMERICAN COMMUNITY PARTNER WITH GOD TO NURTURE CREATIVITY, CONFLICT RESOLUTION & COLLECTIVE ACHIEVEMENT.
The Space where the Spirit of our Ancestors and the African American Community partner with GOD to Nurture Unity through Collective Resistance!