The Creative Genius of the Black Community can be Strengthened or Weakened by our Collective Response to the Walls in our lives!
95th Street Peace Walks
These are Peace Walks that are conducted the 2nd and fourth week of April thru October. This is an intentional effort to partner with area churches , social service agencies and area houses of worship, specifically Trinity United Church of Christ on Chicago's South side ,to address the public health crisis of gun violence within the African American community. These peace walks are pre -emptive strikes, where the church, the community and residents, living both inside and outside areas plagued by either sporadic or everyday gun violence join together to create safe space for our children , our families and our future.
95th Street & Robicheax Park Basketball Classics
These are Annual Tournaments where we join forces with the community to build unity through annual sporting events which over a period of 15 years have proven to not only reduce violence but strengthened our community. These Basketball Classics have now become a space for family reunions, business networking and community engagement . Each of these tournaments intentionally constructs a sacred halftime where we share pertinent information regarding issues such as knowing your legal rights, prison reform and music , spoken word or dance with a message against gun violence.
Where: 330 East 133rd Street, Chicago, Illinois When: August 27, 2022: 10am - 4pm
Barber & Beauty Shop Rap Sessions
Our Barber & Beauty Shop Rap Sessions are designed to provide a safe space to intentionally discuss creative and collective pathways for solving issues plaguing the African American Community. We also utilize area barbers and beauty shop practitioners for many of our summer outreach activities. We adhere to the rule that what is talked about in the barbershop, stays in the barbershop.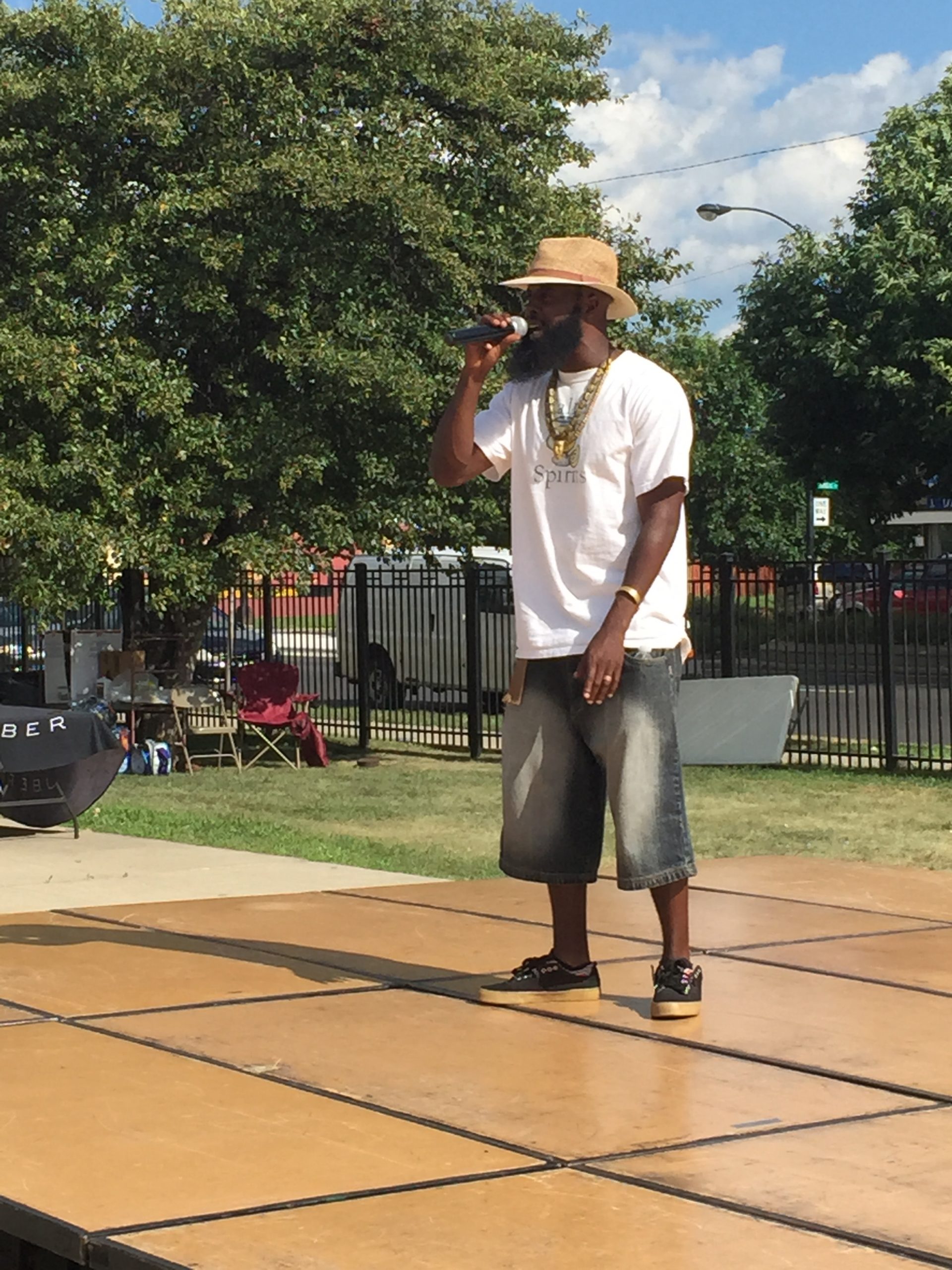 Speaking Your Peace Against Violence
One of the highlights of our Spoken Word programming is that we provide an opportunity for our students to bless our community by performing with established spoken word artists throughout the Chicagoland area, to speak peace, promote justice and transform everyday space into a sacred space of hope and encouragement. Join us and witness this positive intergenerational energy as we embody the spirit of "Ubuntu"meaning ,"I can because you are."
Art of Noyz Outreach team is committed to utilizing movies , videos and documentaries to raise discussion about issues people of color are dealing with daily. Movies with a message has proven to be a powerful weapon for getting at issues such as absentee fathers, police brutality, mental illness and gun violence . Join us for a movie, meal and fruitful fellowships in community. Our goal is not just to watch movies but to utilize them to organically get at issues with the intent of reaching answers that will enrich the community.
Drug & Alcohol Recovery Picnic: August 20, 2022
Art of Noyz Ministries in partnership with area churches, treatment centers & both men's and women's recovery home is committed to providing safe spaces for the those both seeking and already engaged in a pathway to recovery from any mind altering substance. This picnic is not only a celebration of life after addiction but is designed for those seeking recovery to experience love of community through music, drama, spoken word some great barbecue and strong fellowship from those who have experienced addiction but through the power of God have lived to share their stories of overcoming.
Location: 49 East 95th Street, Chicago, Illinois
THE SPACE WHERE THE SPIRIT OF OUR ANCESTORS AND THE AFRICAN AMERICAN COMMUNITY PARTNER WITH GOD TO NURTURE CREATIVITY, CONFLICT RESOLUTION & COLLECTIVE ACHIEVEMENT.
We kept at it, repairing and rebuilding the wall. The whole wall was soon joined together and halfway to its intended height because the people had a heart for the work.

Nehemiah 4:6 Message